Who we are?
We are creative hoomans who are obsessed with crafting seamless digital experiences that impacts the lives of our users while always being driven by great design.
That's not it, but if you are curious keep scrolling…
PASSIONATE
We have a knack for solving your problems using smart design work.
The Grid Story
We are a group of designers with over two decades of combined experience in crafting scalable designs for 150+ clients.
Squareboat has been a leader in IT services since last 10 years and it was observed that the influence of design is rapidly growing and the enormous impact that it can create. It was then, the idea of GRID was born, and this ambition of expanding and exploring a design community was started.
We are a close-knit group of
young

and

professional

minds obsessed with collaboration on all fronts, whether at

work

or at

play

.

Our team is made up of individuals with diverse backgrounds who complement one another and spark each project we undertake.
TEAM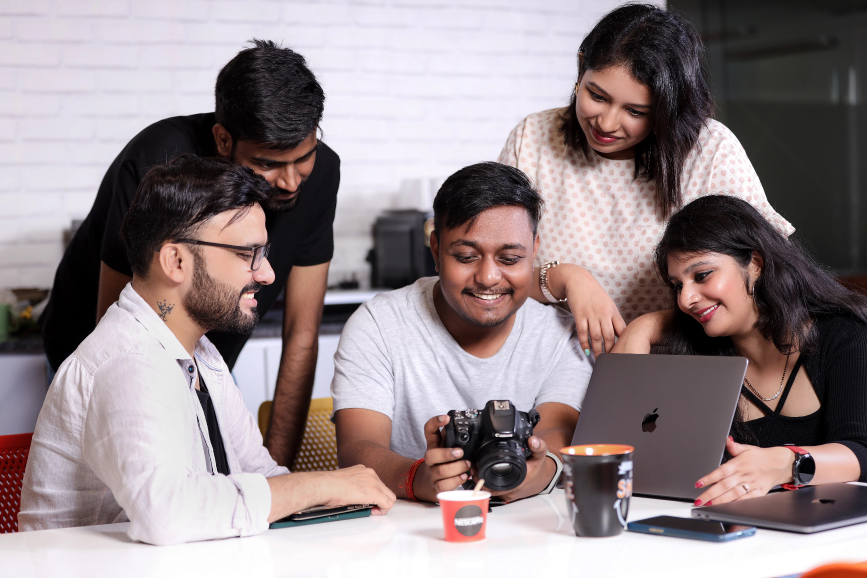 01
Family Spirit
We have got your back
Our team is powered by our tightly-packed bonds. Every day we push ourselves to do better and be better as a team. Most importantly, We make sure that we are there for each other when it's most needed.
02
Extreme Ownership
Consider it done
We trust our team members to be true to their commitments. This also means that our people communicate freely whenever they need help. We make it our priority to deliver great designs on time.



Grid is a creative agency that crafts seamless experiences to ease the lives of our clients and their users. We are a bunch of
creators, explorers and visualisers

with a conviction to learn and grow together. For us, each project is a unique opportunity to experience the power of design and deliver with excellence.
03
Curiosity
Question everything
We are driven by our ability to question everything, including the status quo. This helps us gain extreme clarity when exploring the problem space for our clients.
04
Passion for good design
No-Slack
Simply, we can't stand bad user experience. We take it upon ourselves to deliver high-quality design & seamless UX. With our team, you are set to get beautiful designs that are satisfying to users.